If you want to upgrade your old version to the current version of Snagit, e.g. from 13.0 to 2018.0, you will have to pay for the upgrade. Only if you have a maintenance contract, this upgrade is free.
All updates within the same major version number are free, e.g. the update from version 2018.0 to 2018.1. The same applies to maintenance updates, e.g. the change from version 2018.1.0 to version 2018.1.1. Only the next upgrade is chargeable again.
When purchasing Snagit, the following always applies:
All updates within the purchased main version are free of charge. This means: If you buy version 2018.0, you get 2018.1, 2018.2 and all updates 2018.x for free.
If you have already purchased an older version of Snagit, then you can purchase the latest version at a reduced upgrade price.
When you download the latest version from our website, the software will automatically check your software key and detect whether you are eligible for the free update or the upgrade at the special upgrade price. You can also run the upgrade check yourself at any time. You can do this via the help menu in the installed software.
You can only ever buy the latest version offered on our website.
How to find the version number for a single-user or multi-user license of Snagit:
Start Snagit.
Select Help > About Snagit
A window displays the base version you purchased.
Multi-users see the version number and the word "Multi-User License".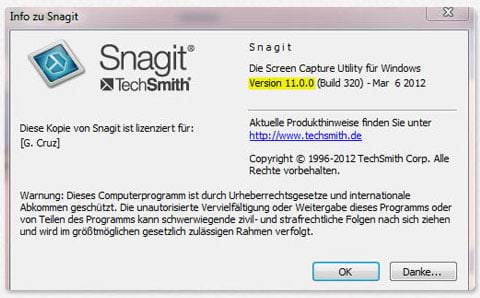 How to find the version number on a Mac:
Start Snagit.
Click Snagit > About Snagitt
In the About box, you will see the version number (highlighted in yellow below).